IMPACTED BY
HURRICANE DAMAGE?
YOU NEED AN EXPERT & ADVOCATE PARTNER
Ensure your insurance claim is managed properly and your claim settlement maximized.
STRATEGIC CLAIM CONSULTANTS
FLORIDA LICENSE: W841520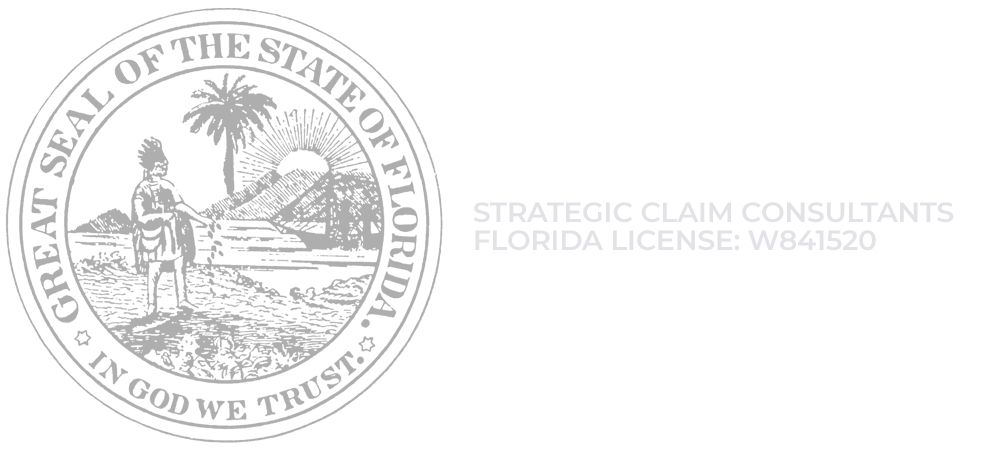 We can help with Hurricane Ian Recovery
With over 200 years of experience and $2+ billion in insurance claims settled by our expert team, we employ state of the art technology solutions and unmatched advanced claim management practices that have maximized client settlements.

Time & Money
Client settlements are increased by an average of
50%
while saving our clients' time
100%
How do I prepare properly for a Hurricane?
Download our free guide to Hurricane Preparedness. This checklist will help you in the event that your business or home might be damaged during the storm, or afterwards with wind, water or other property damage.
Learn more
Strategic Claim Consultants regularly works hard to prepare you for storm damage. Did you know that many insurance policies may not cover you for flood damage after a Hurricane? Here are some additional helpful articles.
Read more
… about Condominium Flood Specifications form the National Flood Insurance Program. The link below provides the Residential Condominium Building Association Policy | Standard Flood Insurance Policy
Get Help Today
Get expert insurance claim assistance with Hurricane damage.
Why Strategic Claim Consultants
As the most comprehensive Public Insurance Adjuster in the southeast USA, we understand that disasters happen. The stress and trauma along with the numerous, critical decisions that need to be made in the aftermath are overwhelming. It is a difficult situation that, even under the best circumstances, requires expert knowledge and experience to navigate. Any misstep or mistake during the claim process can and will delay and limit your claim settlement. Here's why you should use a Public Adjuster vs simply relying on an Insurance Adjuster.
We understand
insurance claims
and how to maximize
your return
Our team of experts has years of experience in dealing with insurance companies and taking care of property owners across multiple continents. As a commercial insurance adjuster in Atlanta, we understand that insurance companies work for their own interests which means they always work to minimize what they pay property owners. We are Georgia public adjusters who work for your interests and your interests only, taking care of you by advocating for you and fighting to ensure you receive every benefit, resource, and settlement dollar that you deserve.
We are Strategic Claim Consultants and a public adjuster for businesses in Atlanta; when you turn to us for Atlanta public adjuster services, we will be with you all the way…minimizing your stress and maximizing your claim.
So in order for you to receive the resources and settlement to which you are entitled, it is vital that you know and take the correct steps in the claim process. At Strategic Claims Consultants, as public claim consultants in Atlanta, we take care of you and ensure you take those correct steps. We are a seasoned public insurance adjuster in Atlanta, working diligently to ensure all our clients end up with the compensation they're entitled to. As possibly the best public adjuster in Atlanta, Georgia, we have a wealth of knowledge when it comes to getting our clients their money.
We work diligently to ensure you end up with the compensation you're entitled to