Accidental fires can happen without any warning, leaving a wake of immense damages for business owners and homeowners to piece back together once the dust settles. Did you know that a fire claim can take over 6 months to resolve without representation by a Public Adjuster?
Call us today at (844) 701-9995 to speak with someone about how we can help you file, inspect, and collect on your fire claim today.










Contaminants & Global Pandemics

We can help — whatever the claim
Recovering from a serious fire at your business or residence can be one of the most difficult and trying times that a business owner or manager may ever experience. We understand how challenging it can be to navigate the claims process after experiencing a traumatic event like a catastrophic fire and know that getting back up and running is crucial to full recovery for any business.
Invest in Licensed and Certified Fire Claim Adjustment Service
If a fire occurs at a commercial property, a business can be shut down for months or perhaps even indefinitely depending on the extent of the damages. For example, in an apartment fire insurance claim, the management company has to handle a potential loss of rental income, the hassle of relocating families, and in many cases also organizing the necessary repairs. Important business property like technology, machinery, or files can be damaged beyond repair and need to have proper documentation submitted to the insurance company. If a fire occurs at a residence, having to relocate your family and document a lifetime's worth of often irreplaceable personal property is an overwhelming process. Recovery from a fire includes interviewing and managing mitigation and construction vendors which can be a very stressful process for business owners and homeowners. Let the experts take it from here. Our team of Public Adjusters will make sure you have the best vendors repairing your property so you can focus back on your day-to-day life.
Repairs to fire insurance claims are very costly and in some cases impossible to recover all materials. Did you know that sprinkler systems and water damage from the fire department are a secondary concern that can fry electrical systems? Although it's not a common initial concern of a business owner or homeowner, this often does happen, making it extremely important for you to have the experts on your side to assess the situation at hand and help to prevent any further damages from your property. According to the IICRC (Institute for Inspection, Cleaning and Restoration Certification), the water used to put out the fire can be just as damaging if not more costly than the actual fire itself. The secondary effects of fire, known as smoke, soot, and water damage are oftentimes overlooked. Do not let this happen to you. Get a Public Adjuster to inspect your damages immediately.
Strategic Claim Consultants, led by Brandon Lewis, is a licensed and certified fire damage firm with the IICRC and the Department of Insurance. We use a "tell, don't ask" approach that results in a quick and effective resolution so you can be back in your home or get your business back up and running sooner, without the hassle of ever having to fight the insurance company on your own.
Call us today at (844) 701-9995 to speak with someone about your fire claim and how we can help.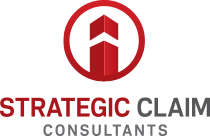 Save Yourself Time With SCC
Brandon Lewis and our team at Strategic Claim Consultants understand how important it is for you to focus on your business goals, especially after a disaster hits. Any insurance claim process can delay your productivity and leave you buried in complex, frustrating negotiations with your insurance provider. Let us help put the pieces back together. We will diagnose the cause of loss properly, thoroughly document damages, ensure the proper mitigation companies are in place specific to your loss, get it right the first time, and expedite the entire claims process on your behalf.