Hail damage can be extremely destructive and the extent of those damages can vary greatly. Has your roof been damaged in a hail or wind-related weather event?
Call our expert Public Adjusters at (844) 701-9995 today.










Contaminants & Global Pandemics

Hidden hail damage can cause extensive wear and tear to your structure over time. Get help today.
Hail can leave immense damage
When it comes to hail, it can be unpredictable at times and leave immense damage to both commercial and residential properties alike. Hail damage can often be overlooked when a claim is being investigated because damages can be mistaken as heat blisters or condition and aging. If hail damage goes unnoticed, it will result in more wear and tear to your structure over time, leading to more costly repairs down the road. Although relatively rare in the South, a severe hailstorm can shatter windows, damage the roof of a business or home, and wreak havoc on unprotected vehicles. In addition to the roof itself, hail can cause damage to HVAC systems, which also may need to be repaired or replaced after a storm hits. Our Public Adjusters specialize in settling commercial roofing claims from hail damage and have expertise with all major types of roofing systems including membrane/TPO/EPDM, modified bitumen, metal, and stone coated steel.
Have you ever heard of Cosmetic Exclusion?
Cosmetic exclusion is when the insurance company denies a claim, citing damage to the cosmetics of a structure instead of recognizing damages made to the durability, safety, and design of it. This is a common pitfall many business owners face when dealing with a hail damage claim because the insurance companies will use these clauses as a way to deny a claim.
When you are filing a hail-related insurance claim for your business, it's very important to accurately document all corporate and commercial losses. Unfortunately, commercial roof damage claims are often denied or underpaid, and too often it's because of cosmetic exclusion. Our team of professionals has access to experts, engineers, and appraisers to provide evidence of any structural damage negating the classic cosmetic exclusion case and will make sure you are represented fairly throughout the claims process. We work alongside the insurance company's adjusters and often recover denied claims without major incident. A commercial claim can take up to 6 months to process, sometimes even longer without the representation of a Public Adjuster! Our local Public Adjusters can help expedite and maximize your claim by documenting the true claim value and negotiating on your behalf with the insurance company to ensure you receive the maximized settlement you deserve.
In 2014 alone, hail caused more than $1.4 billion in property damage and just two years later, the 2016 San Antonio hailstorm that hit central Texas was the most costly hailstorm on record to date. If you or someone you know has a business or property that has been damaged in a recent hailstorm, contact Strategic Claim Consultants right away.
We work directly with our clients to ensure you receive education about the claims process, an expedited timeline, and a maximized settlement. Our team of professionals has handled hail damage claims throughout the country and is prepared to help you settle yours. Don't wait.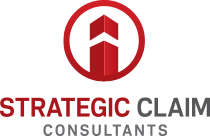 Save Yourself Time With SCC
We understand how important it is for you to focus on your business goals, especially after a disaster hits. Any insurance claim process can delay your productivity and leave you buried in complex, frustrating negotiations with your insurance provider. Let us help put the pieces back together. We will diagnose the cause of loss properly, thoroughly document damages, ensure the proper mitigation companies are in place specific to your loss, get it right the first time, and expedite the entire claims process on your behalf.