When you experience a traumatic event and are left with an insurance claim, ask yourself, "Who is representing my best interests?" The answer may surprise you.
In the wake of catastrophe, you need the best team of people on your side to expertly navigate the complexities of the insurance claims process. It isn't an easy task to take on by yourself and incorrectly managing your claim could mean a delay or even a denial of your settlement. Don't let this happen to you. Making the decision to hire a Public Adjuster could directly influence the positive outcome of your claim and help you get the settlement you deserve in a timely manner so you can get back to your day-to-day life. Call our team of professionals at (844) 701-9995 to speak with one of our Public Adjusters about your claim and how we can help you file, inspect, and collect your settlement.

Contaminants & Global Pandemics









Our goal is to help
Our Public Adjusters will educate you on the claims process, work to expedite the processing of your claim with expert representation, and maximize your payout. We will strive to ensure that your case file is organized, coherent, accurate, and updated at all times so you have proper expectations on important timelines and deadlines.
We are commercial Public Adjusters
We are here to help. Call us today or contact us below. (844) 701-9995
Get help today
Policy Review
We will complete a thorough policy review to verify coverage of your loss and maximize your claim. We examine all applicable coverages like property damage, business interruption and personal property.

Claim Filing
If you have a new claim, we will file your claim and communicate with the insurance adjuster on your behalf. Not only does this save you time and frustration, it also helps expedite the inspection process.

Estimating & Inspection Services
Our team of Public Adjusters will meet with the insurance company's adjuster at the loss to complete a detailed inspection of damage. We don't rely on the insurance adjuster's estimate to determine the value of the claim. We complete our own estimate of damages that reflects the full legal value of the loss.

Appraisal and Umpire
Appraisal is a form of claim settlement which is like a pyramid. At the bottom are unbiased appraisers on each side who try to settle the claim with little dispute. If neither side agrees, a neutral umpire at the top of the pyramid mediates the dispute. The umpire's findings are binding given proper handling without collusion.
Educate, Expedite & Maximize
Our process involves educating our clients, expediting the claims' filing, and maximizing the indemnification to best suit your needs. From filing to the finish line, we may very well be the best decision you ever make.
Get help today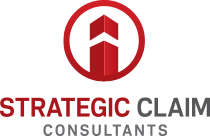 Save Yourself Time With SCC
We understand how important it is for you to focus on your business goals, especially after a disaster hits. Any insurance claim process can delay your productivity and leave you buried in complex, frustrating negotiations with your insurance provider. Let us help put the pieces back together. We will diagnose the cause of loss properly, thoroughly document damages, ensure the proper mitigation companies are in place specific to your loss, get it right the first time, and expedite the entire claims process on your behalf.