Tornadoes have become an increasingly common natural disaster that has caused millions of dollars in property damage for business owners and homeowners alike. How does your business or homeowners insurance policy hold-up in the wake of a tornado?
Let's find out. If you live in a tornado-prone area, please contact our team of Public Adjusters today at (844) 701-9995 to review your policy so you can know with confidence that you are protected against whatever comes your way.










Contaminants & Global Pandemics

Affected by recent storms?
Get help today!
We are so honored to work with our local community in Georgia and want to thank everyone who has given us the opportunity to represent them with their tornado claims. In March of 2021, our team of Public Adjusters helped our local community of Newnan, Georgia recover and rebuild from the EF-4 tornado that wiped out over 1700 properties. Unfortunately over the past few years, many of the Southern states have seen a significant increase in tornado activity, leading to an increased number of open claims which can ultimately prolong the claims process and delay your payout.
The recovery after a catastrophe like a tornado can be a very long and difficult process, making it challenging to get the money you need to rebuild in a timely manner. Our team of local Public Adjusters will help you through every step of the claims process to ensure you receive fair treatment and have the best chances for a maximized settlement.
Has the aftermath of a recent tornado created water damage?
Get help drying out.
Download our FEMA Structural Drying Guide
Have the best in the field on your side
Although many tornadoes don't have a major impact on the general population, many catastrophic tornadoes take place quickly and without warning. It's imperative that you have the best in the field on your side before something happens. We offer both commercial and residential services for policyholders and will These events are emotionally traumatizing, leaving those who suffer from them in a challenging position and the question of, "what now?"
Call our Public Adjusters at (844) 701-9995 to learn more about how we can help you today. Don't risk a claim denial, call our expert Public Adjusters today.
An experienced public adjuster will represent your best interests during all complex documentation processes and will make sure that any consulting inspectors or building engineers assigned to your claim will perform a precise inspection of documenting your business or personal property inventory. This should include damage or destruction to your structure(s) from contact with the tornado's winds, high storm winds, falling trees, roof damage, or projectiles damaging the home structure or windows. Expert testimony and weather data should also be submitted to your claim to help paint a clear picture of the event and the true value of the loss.We work directly for the policyholder, not the insurance company, and can help you avoid common mistakes that may result in claims denial, such as failing to document damage, or performing repairs before an insurance company examines your property.
Tornado damage insurance claims can be the most stressful event in business or homeowner's lifetime and we understand how you need transparency throughout the process. Your insurance company may delay claim processing, minimize your payout, and even attempt to deny claims after a natural disaster like tornadoes. As your liaison, we will file your claim for you and aggressively negotiate on your behalf to ensure you get a maximized settlement on an expedited timeline. It is the public adjuster's responsibility to submit all paperwork and negotiate on your behalf to expedite a fair settlement. Don't wait if you or someone you know has been impacted by a tornado.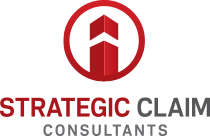 Save Yourself Time With SCC
Brandon Lewis and our team at Strategic Claim Consultants understand how important it is for you to focus on your business goals, especially after a disaster hits. Any insurance claim process can delay your productivity and leave you buried in complex, frustrating negotiations with your insurance provider. Let us help put the pieces back together. We will diagnose the cause of loss properly, thoroughly document damages, ensure the proper mitigation companies are in place specific to your loss, get it right the first time, and expedite the entire claims process on your behalf.